Whether you illuminate the center of your store with a modern chandelier or a cluster of glass pendants, Niche lighting will surely entice frequent passersby and shoppers alike into your space. These three companies all chose to incorporate our signature Solitaire pendant into their modern retail lighting displays.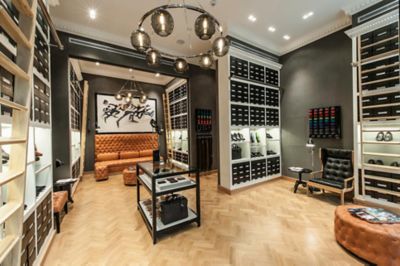 1. Harry's of London
At the Dubai location of this high-end men's footwear brand, two of our modern chandeliers with Solitaire pendants serve as the store's centerpiece. Seen in front, our Sola 48 Modern Chandelier includes seven Solitaire pendants in Gray glass. This chandelier can be customized to fit your style by selecting from several glass shapes, colors, and metal finishes. Towards the back of the store, our Solitaire Modern Chandelier also features this classic silhouette in Gray glass. The neutral color of our luxurious glass reflects the company's aesthetic and complements their signature black shoe box seen on the shelves.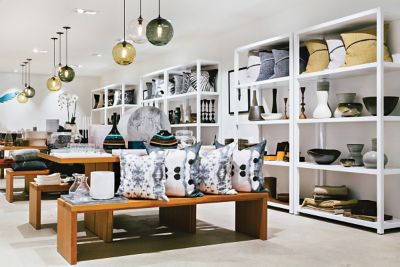 2. Provide
Vancouver's highly curated lifestyle store, Provide, features clusters of our Solitaire pendants in Amber, Crystal, and Gray glass. The classic shape of our Solitaire pendant brings a touch of sophistication to this contemporary space and allows customers to shop in style! Read more about our pendants and Provide in darc magazine's recent retail lighting feature.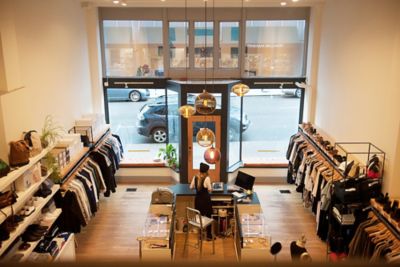 3. Frances May
Frances May is one of Portland's most dependable shops for clothing and handmade accessories. The boutique is curated with authentic labels whose standard is timeless style, quality and longevity, making this the perfect place for Niche pendant lights. A grouping of Solitaire and Stargazer pendants in Amber, Smoke, and Plum glass hang in the center of the store. The combination of our signature pendants complements the minimalist aesthetic of the store and adds a playful touch to the high ceilings.