This Spanish Mediterranean Piedmont Estate that has been in the same family since 1927 underwent an extreme renovation last year with help from the expert LMB Interiors. One of the biggest changes included converting a tiny, outdated kitchen into a welcoming and spacious area, fully equipped with modern appliances and an an eat-in island, above which Niche modern pendant lights hang.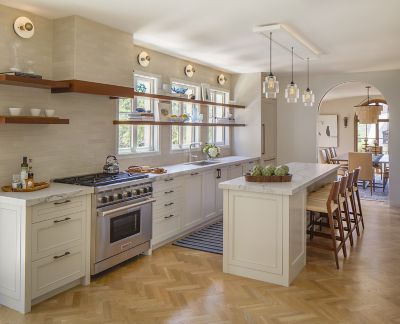 A trio of Axia pendants in Crystal glass adorns the kitchen island. Boasting a sexy, substantial middle, the Niche Axia modern pendant light makes a gorgeous addition to any environment. The Axia is part of the Crystalline Series which embraces playful, fresh colors and bold, defined angles but never strays far from Niche's core design principles of simplicity and elegance in modern lighting. Our signature Crystal glass complements the interior's neutral palette of beige tones and wood accents. The white quartzite countertops, walnut shelving, and herringbone wood floors all contribute to this kitchen's modernization.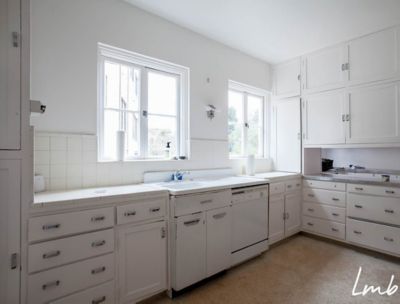 LMB Interiors transformation of what used to be a maid's kitchen with a butler's pantry and a sunporch is truly astonishing. We are thrilled and grateful that they chose to incorporate Niche hand-blown pendant lights in this special family home. Stay up to date on LMB's latest projects by following them on Houzz, Facebook, and Instagram.
Modern Kitchen Island Lighting Project Details
Project Name Charles McCall 1927 Spanish Mediterranean in Piedmont
Location Piedmont, California
Interior Designer LMB Interiors
Photographer Eric Rorer
Products Used Axia pendants in Crystal glass