LinkedIn, a business and employment-oriented networking service recently opened an office in the Business Central Towers of Dubai. With help from Perkins + Will, the office has features that reflect the company's values, including innovative collaborative working spaces, meeting rooms, a coffee shop, and a game room, which features Niche modern office pendant lights. The overall design incorporated at LinkedIn Dubai draws reference from the regional heritage, calling on materials and patterns that reflect Middle Eastern style.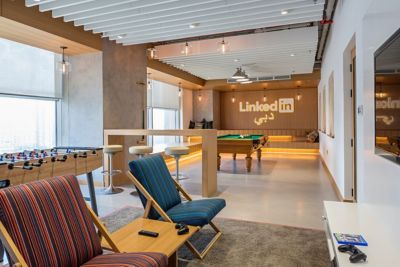 In the game room, a collection of Oculo pendants in Crystal glass welcomes employees to the breakout space, which includes a pool table, video game station, and seating area for informal meetings. These were all incorporated after the design team had a briefing with employees who requested these amenities. The robust frame of the Oculo pendant light garners undivided regard and praise in any environment, especially here, and the Crystal glass complements the playful yet conceptual workspace.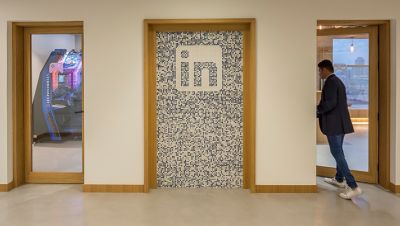 "We put a lot of thought into the acoustics of the room, and its functionality," says Senior Interior Designer, Valentina Cereda. "We have designed a space to create a branding moment, with LinkedIn's logo and 'Dubai' written in Arabic on the wall. We have divided the room so people can focus on their game with enough space around them." We absolutely love the final result.
Connect with Niche on LInkedIn to be notified about upcoming events and career opportunities.

Modern Office Lighting Project Details
Project Name LinkedIn Dubai Office
Location Dubai, United Arab Emirates
Interior Designer Perkins + Will
Products Used Crystal Oculo