PULS, a German engineering company creating high-quality DIN rail power supplies, commissioned Evolution Design to create a staff-centered workspace that would shift the culture away from 'islands of lonely workers' towards a 'networked community.' Their headquarters now features areas designed for social collaboration and knowledge sharing. Various departments are joining together in these central spaces that are fostering innovation, teamwork, and overall company spirit.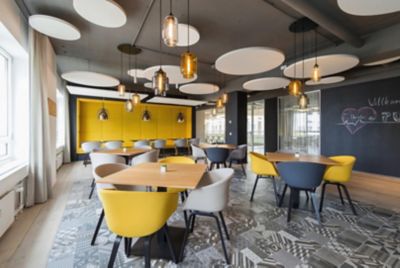 In the meeting hub and cafeteria, Niche handmade pendant lights adorn the communal tables. Clusters of our Amber Calla, Gray Axia, and Crystal Helio pendants hang from Circular-3 Modern Chandeliers. The glass colors in this space complement the bold but neutral tones, with bright yellow accents standing out against a palette of grays, whites, and dark blues.
The Circular Modern Chandelier allows a cascade of three pendants to create a custom lighting fixture. Suspended from Matte Black and Matte White metal canopies here, the assemblage of stunning, hand-crafted silhouettes enhance the environment used to connect and exchange ideas.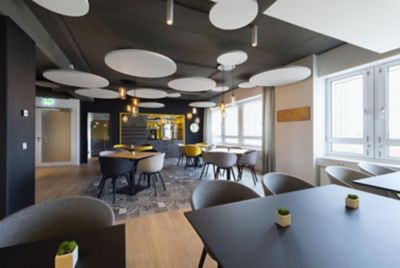 In a break area, four Axia pendants in Crystal, Amber, Condesa, and Gray glass hang over a coffee bar. This combination of glass colors and the playful angles of the pendant light adds to the overall feel of the space. Again, the color palette from the cafeteria is repurposed here, with subdued neutral tones balancing out the bold yellow and blue accents. The art featured on the wall also adds a lively touch, emphasizing the importance of comfortable and creative workspaces by abandoning the traditional sterile, corporate office vibes.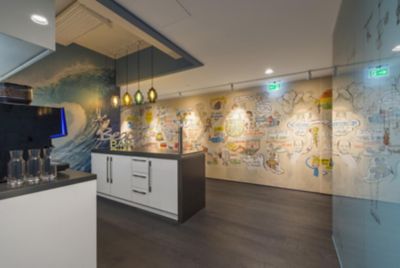 Modern Office Lighting Project Details
Project Name PULS
Location Munich, Germany
Interior Design Tanya Ruegg, Stefan Camenzind, Claudia Berkefeld, Natalie Maciejowska, Kate Lasikowski of Evolution Design
Photographer Peter Wüermli
Products Used Crystal Helio, Amber Calla, Gray Axia, Circular-3 Modern Chandelier, Crystal Axia, Amber Axia, Condesa Axia