While flipping through the November 2010 issue of Elle Decor, we stumbled upon an extraordinary SoHo loft with Niche kitchen island pendant lights. The founders of the London-based design firm Ochre discovered this reclaimed industrial building in Manhattan and decided it was the perfect fit for their family. The 3,000-square-foot-loft is filled with modern lighting from the couple's own products. It truly is a privelege to have our handmade pendants among their stunning designs.
Above the Valcucine kitchen island hangs two Stamen pendants in Plum glass. The Stamen is truly the signature pendant of the Niche modern lighting line and became the impetus for all of the other pendant designs which followed. The Stamen redefines the parameters for hand-blown glass by curving around voluptuously and tucking into itself unexpectedly. Inspired by the natural forms of flowers, this signature Niche silhouette is ideal for both hospitality lighting and residential modern lighting, as seen here.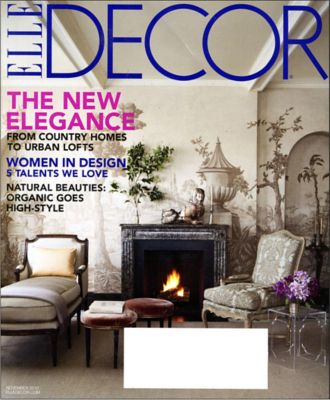 Explore modern lighting press coverage to stay up to date on the latest design trends. Niche is often featured in publications from Interior Design, Design Within Reach, Dwell, and more.