Singapore's popular fashion director, Jeremy Tan, spent nearly four years trying to find his ideal home. Once he found this 1970s flat, he knew this would be a once-in-a-lifetime investment. His residence is now filled with intricate pieces that he has collected throughout his travels, including decorative mirrors and lamps. We were thrilled to find Niche handmade pendant lights taking center stage in Tan's thoughtfully curated flat.
A cluster of three Solitaire pendants in Amber glass hang on one side of the couch in Tan's living room. Hanging from different drop lengths, the grouping of Solitaire pendants creates a unique living room lighting installation, which brings a refined touch to this relaxed atmosphere. The honey-colored hue of our signature Amber glass brings warmth to the interior, complementing the maroon marble flooring and other red and bronze accents featured throughout the space.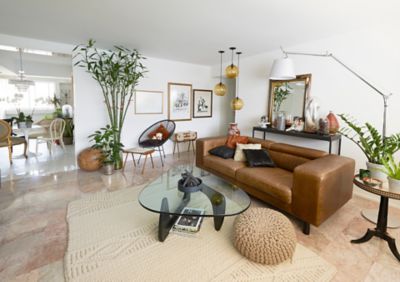 "Fashion trains you to look at one dimension because you're working only on the body. But a house has so many rooms and so many dimensions to think of," Tan admits in a Home and Decor article. With that, Tan started with a blank canvas, choosing to keep the walls white as a way not to complicate the look of the home. "Even though white can get dirty easily, it's a good base to add more colorful furniture pieces," says Tan. With this mentality, it makes sense that he chose to incorporate our luxurious colored glass, and we couldn't be happier with the result.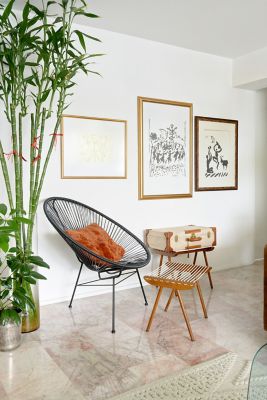 Project Name Jeremy Tan Flat
Location Singapore
Photographer Lumina Photography Studio
Products Used Solitaire pendants in Amber glass