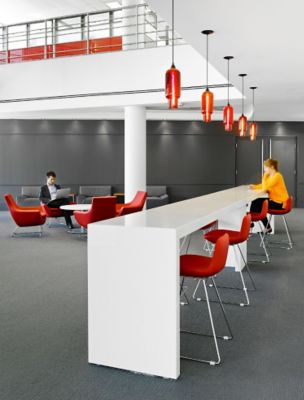 Eli Lilly is a pharmaceutical company with 17 offices around the globe. Their east Toronto facility went under a 4-year renovation that transformed the disjointed corporate campus into a connected and friendly hub that celebrates its people. As a pharmaceutical company with a focus on health, the new offices are equipped with wellness spaces, lounges and hubs to relax and recharge.
The Eli Lilly logo is red which prompted design firm Figure3 to incorporate the color into the branding through the entire renovation. Furniture, wallpaper, pillows and other decor carry the red accent color throughout the corporate campus.
It's no surprise that our Pharos pendant lights in rich Crimson glass were the right choice in one of the many lounges. Paired with red chairs, this lounge is the perfect place to recharge in the middle of the work day. Who says office pendant lighting has to be all work and no play? We think the boldly colored Pharos pendants add a playful, modern twist inside a corporate environment.