High Point Market is a bi-annual showcase that takes place in the rural setting of High Point, North Carolina. One of the largest furnishings industry trade shows in the world, the event brings more than 75,000 design-enthusiasts to the area to find the latest trends in home fashion. Niche is excited to showcase a few of our newest pendant lights at High Point this fall.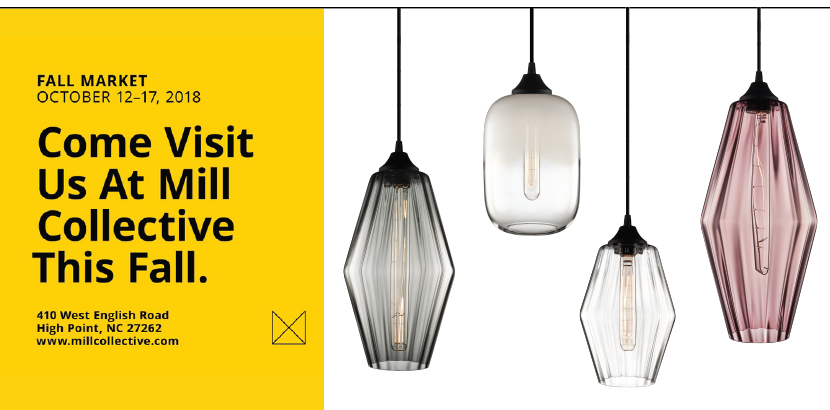 If you have been following Niche this year, you know we launched two new pendant styles: the Haze and the Marquise. The Haze pendant features a unique gradient effect that flows from Opaline to transparent Crystal glass, making for a versatile and elegant light. The Marquise Series is comprised of three pendant sizes: Marquise Grand, Marquise, and Marquise Petite. We will have various glass colors and treatments on display to promote the full range of our product line and glass-blowing abilities.

Niche is excited to partner with two incredibly talented furniture companies: Miles & May and Skram Furniture. We have seen first-hand how these companies support similar values to Niche and truly cherish the thought of creating unique, handmade pieces. If you aren't familiar with either of these creators, Miles & May designs furniture that is fundamentally sustainable (pieces of enduring quality that one generation can pass down to the next) while Skram Furniture fabricates modern furnishings for residential, commercial, and hospitality markets. We know our pendant lights will shine above their stunning creations.

You can find Niche, Miles & May, and Skram Furniture in the outlying showroom Mill Collective, which features a curated set of brands that are crafting innovative designs. For more information, including directions, to the Mill Collective in the Point Seven Building, click here.


When
October 12-17
Friday - Monday | 8:30 am - 7:30 pm
Tuesday | 8:30 am - 5:30 pm
Wednesday | 8:30 am - noon
Where
High Point, North Carolina
Mill Collective - Outlying Showroom
Why
Serious retail home furnishings buyers, interior designers, and architects can be found at High Point.
Learn about the latest trends and source new designs for upcoming projects.