Located in historic downtown Flagstaff, FLG Terroir has established itself as one of the best wine bars in the bustling Arizona area. Designed by Kim Duncan, this fully renovated space boasts an assortment of choices, specializing in boutique wines from around the world and small creative plates that stand out in the local dining scene. From food to drink to aesthetic, FLG Terroir creates a cozy environment worth visiting again and again, especially to see Niche's spectacular Spark 48 Modern Chandelier at the center of it all.
Niche's Spark Modern Chandelier serves as the focal point in this warm and inviting interior. Giving grandeur to the space while showcasing the simple beauty of the incandescent Beacon bulb, our timeless fixture fits in seamlessly at this hot spot committed to quality service. With an array of metal finishes and bulb options, this contemporary chandelier can be customized to fit the style and personality of your unique project.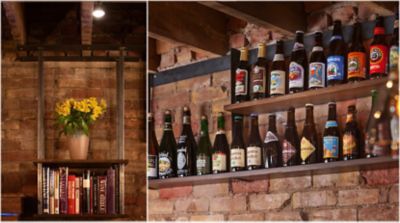 "I really wanted a large chandelier that was modern and simple to hang in the skylight itself. I looked for months trying to find something that was a minimum of 4' wide that I thought would work in the space and could not find anything," says Duncan. "I stumbled on your website and fell in love with the Spark 48" chandelier. It was perfect meld of modern and timeless. Simple and beautiful!"
FLG Terroir Project Details
Project Name Flag Terroir
Location Flagstaff, Arizona
Interior Design Kim Duncan Design
Architect Up Design Studio
Contractor and Carpenter Reitz Restoration
Custom Counters and Metal Work Silver Tone Fabrication
Photographer Brenna Zumbro Photography