Based in San Francisco, LOCZI Design specializes in unique interiors like this Castro District home. Drawing inspiration from Alexander McQueen's razor clam dress, the interior design team created a cascading stone fireplace wall to cozy up in front of, making it the perfect addition to this refined yet relaxed space that describes the clients to a tee.


This custom made walnut block canopy serves as the focal point of the project, and it's only fitting that our handmade glass pendant lighting is featured. Niche Bella pendants in Smoke glass hang from individual junction boxes above the dining room table. The neutral color of our signature glass counterbalances the rich backdrop and the upholstered bench adorning one side of the glass-topped table.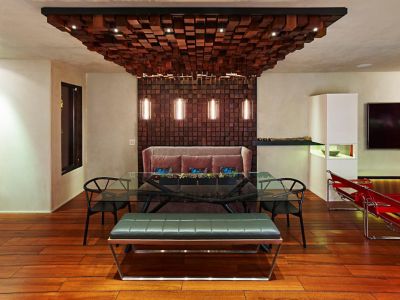 "The dining space is the first thing you see when you enter. Most people simply say, 'Wow!' followed by 'Where did you get the idea?'" says one of the homeowners. The Bella modern pendant light lends itself beautifully to environments where repetition is appropriate for impact, as is the case in this home. Click here to explore the entire Bella Modern Lighting Collection and learn how to choose dining room pendant lighting here.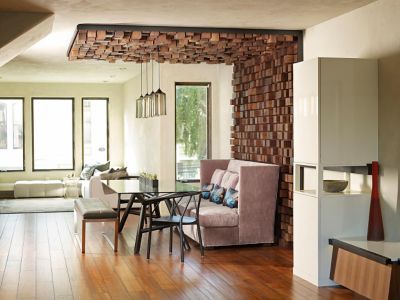 Castro District Home Project Details
Designer LOCZI Design
Photographer Jesse Goff