Meet Andrea, one of our lead glass-blowing team members. Andrea hails from Detroit, Michigan and has worked with us at Niche for over two years now. Both her talent and her infectious giggle are unmatched! Read her "Employee Spotlight" to find out how she got her start working with glass.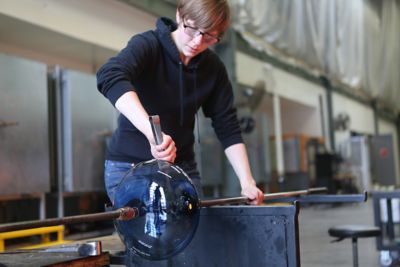 Tell us a about your history working with glass. What attracted you to the medium?
I took a class at Water Street Glassworks in Benton Harbor, Michigan for fun while studying science at university. After one class I was hooked and moved to Detroit to obtain a BFA in Glass from the College for Creative Studies.
Do you dabble in other art media? What influences your work?
Glass, concrete, metal, 3D-printing, wood, neon — I love it all. As of recent, tool-making and how we shape the material world around us is most interesting to me, from historical processes to new technologies.
You just returned from a short gig in Paris, France! Tell us a little bit about it.
Oui. I was invited to Paris to be the Lead Consultant in opening France's first TechShop, a community-based workshop and prototyping studio that democratizes access to the tools of innovation. It was an incredible experience to work on an international team to build a company and to immerse myself in a different culture.
What is your favorite Niche pendant shape and color combination? Why?
The Encalmo Stamen pendant light in the Gray and Crystal glass combination. A lot of love and labor goes into each one and it's overall a beautiful design to stand alone or in a grouping. Making these are my favorite production days!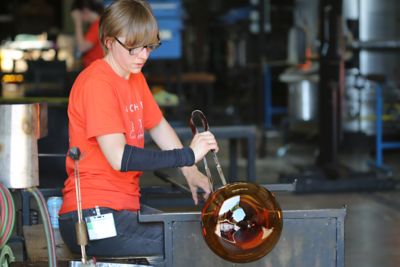 What's your favorite spot in Beacon or the Hudson Valley? Why?
Ella's Bellas is my favorite for strong coffee and sweet snacks. Other favorites are the view from Mount Beacon or inside a Richard Serra installation at Dia:Beacon.