Robert Holgate of Robert Holgate Design chose Niche pendant lighting to complete his personal project. Overlooking Buena Vista Park in San Francisco, Holgate's condo boasts a cozy and welcoming interior. As someone who enjoys entertaining guests, Holgate had Craig Burke of Burke Construction remove the wall between the kitchen and the living room to create an eat-in bar, as he liked the idea of being able to converse with friends and family while he cooked. Our amber pendant lighting is the perfect addition to this area where everyone tends to gather.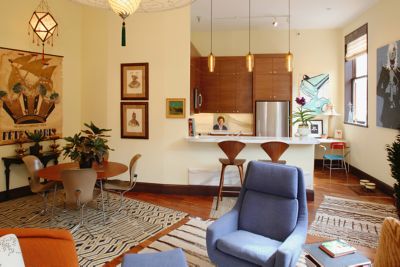 Niche Pharos pendants in Amber glass hang above the kitchen bar. The honey-colored hue radiates a warm, alluring glow, complementing the muted yellow walls and natural wood grains showcased throughout the conjoining rooms. Using a line of pendants allows the bar to appear longer and gives more visual depth to the entire space.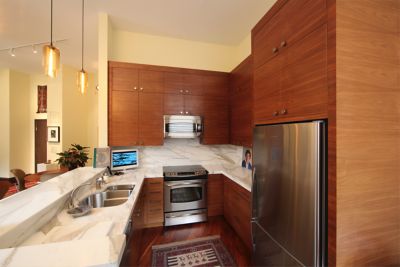 "I love the style and color of the Niche pendants," says Holgate. "I love the artisanship of hand-blown glass."
Buena Vista Project Details
Designer Robert Holgate Design
Contractor Burke Construction
Photographer JD Peterson