The latest issue of darc magazine features a write-up on Niche modern retail pendant lighting in Caudalie shops. We are thrilled to have our hand-blown pendant lights featured in the September/October edition, as well as a full-page ad for our newly re-released Pod pendant light.
Founded in 1955, the global skin care brand Caudalie has grown extensively since its beginnings in France. Throughout the years, it has expanded its roots far beyond its place of origin and now has locations in New York, Los Angeles and London. The worldwide boutiques feature clusters of Niche's Binary pendants in Crystal glass and hang from varying drop lengths to form a stunning centerpiece, creating an inviting space where customers can sample products and speak to a beauty consultant.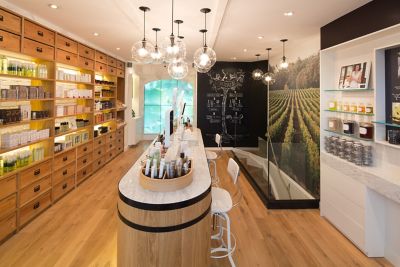 The full-page ad in this month's issue features the Pod pendant, now available in two new luxurious glass colors - Condesa and Rose. Read our latest lighting story and watch our newest video to see how the Pod pendant inspires an incredible journey. Flip through a physical copy of darc magazine and see if you can find us!