Playful and refined, our new Pinch modern pendant light is offered in a variety of colors and lamping options. From the timeless warmth of incandescent bulbs to the energy savings of new nostalgic style LED bulbs, there's a bulb choice for everyone and every environment. Here are three bulbs that look beautiful when lit inside this symmetrical silhouette.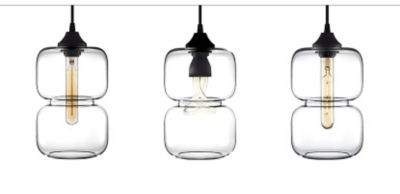 The warm amber glow of the vintage style filaments in the Incandescent Beacon bulb (left) will provide a nostalgic feel to any environment. This multi-voltage bulb is 30 watts at 120v and 60 watts at 240v. We recommend that you install this pendant on a dimmer so that you can adjust the mood and feel of your space.
The Baby Plumen 001 (middle) is available in both 120 and 240 volt electrical settings. This bulb is recommended for use in the Pinch Chroma glass colors, but it is also compelling in Prisma colors as well.
LED nostalgic style bulbs save you energy without having to compromise your design. This dimmable LED Beacon bulb (right) has the warm glow of its incandescent counterpart. This bulb works on 120 volt settings and uses a fraction of the energy of an incandescent bulb.