Located in Lakewood, Colorado, this contemporary townhome exudes style and personality. Designed by Andrea Schumacher Interiors for a hip, mature couple, this residence features an extensive art collection and modern furniture that reflects the homeowners' tastes. In the breakfast room and sitting area, a Niche Multi-Pendant Chandelier adds an elegant touch and refined touch.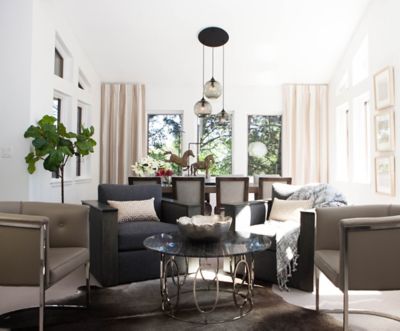 A Matte Black Circular-3 Modern Chandelier with Binary pendants in Gray glass adorns the dining table. Hanging from varying drop lengths, the hand-blown pendants create a unique and elegant centerpiece, adding warmth and intimacy in the gathering space. Our signature Gray glass complements the interior's neutral tones while the minimalistic shape of our classic Binary silhouette balances the clean and simple aesthetic.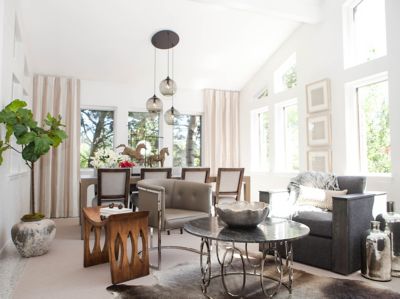 "The chandelier's simple yet elegant design complemented the style of the furnishings perfectly while not obstructing the view of the trees beyond the window," shares Schumacher. "Also, the light reflecting off the pendants adds another layer of visual interest to the space." We couldn't be happier with Schumacher's transformation of this townhome, and we are so glad she chose to incorporate Niche handmade glass lighting into this space. Do you have a project with Niche pendants? You can share your awe-inspiring images so that we can feature them in a future blog post!

Modern Living Room Lighting Project Details
Location Lakewood, Colorado
Interior Designer Andrea Schumacher Interiors
Photographer Jeremy Martinez
Products Used Binary pendants in Gray glass, Matte Black Circular-3 Modern Chandelier