Based on the orb glass shape, the Binary modern pendant light uses two incandescent bulbs, giving it a slightly more contemporary twist on the nostalgic Edison style elegance of our Solitaire pendant. Each Niche Binary pendant is handmade with great care and is ideal for both hospitality and residential modern lighting. Available in several luxurious glass colors, the Binary pendant's palette is influenced by the beautiful details all around us. Take a look at this silhouette's contemporary colored glass shades and the inspiration behind these breathtaking hues.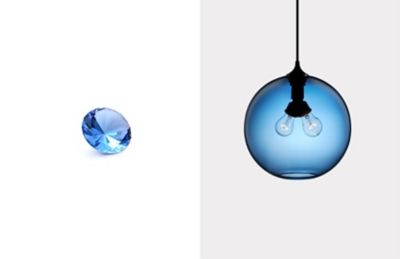 The bold and beautiful blue of the Sapphire glass brightens any environment and sparkles just as much as its gemstone namesake. We recommend staggering Binary pendants in Sapphire glass over a table and pairing them with complementary glass shades and colors for a truly unique installation.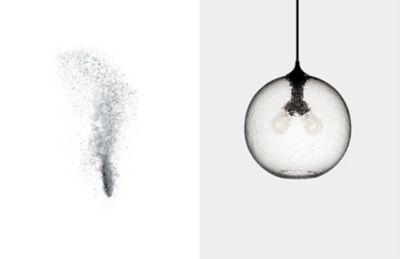 Our unique Effervescent glass is a playful yet tasteful addition to any environment. The optic bubbles, which are made by hand in our studio, create an effect that is reminiscent of raindrops beading together. Hang two Binary pendants in Effervescent glass on either side of your bathroom vanity to bring balance to your space.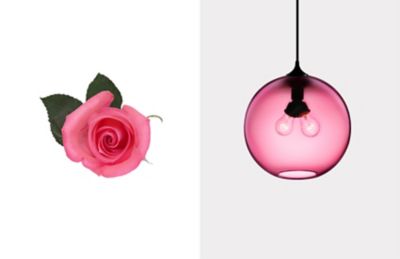 As beautiful as its namesake, Niche's Rose glass is the perfect shade of pink. The blush-colored Binary pendant in Rose glass looks wonderful on its own or when paired with other Binary pendants in signature colors like Crystal and Gray.
Niche's Chocolate glass color is the perfect shade when you have a neutral palette, but still desire a bit of warmth. The rich hue of our Binary pendant in Chocolate glass is welcoming in any space, especially when hung in multiples from one of our Multi-Pendant Modern Chandeliers.
Want to see these glass colors and others in person? You can order a set of 3 or 5 glass color samples to decide what will work best for your next project.