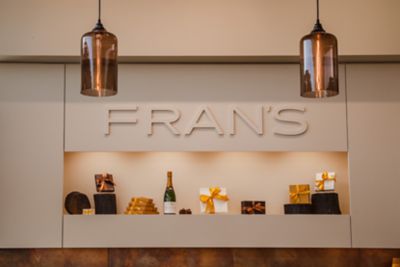 Fran's Chocolates is a family-owned, Seattle-based boutique business specializing in hand-crafted truffles, salted caramels, and chocolate covered fruits and nuts. Since 1982, this confectionery company has created sweets that tantalize locals and visitors alike. With four locations throughout Washington state, Fran's is the one-stop-shop for all your chocolate cravings.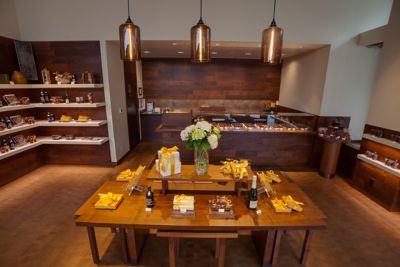 At the University Village location, Fran's treats entice passersby at the open-air shopping center. Inside, Niche modern retail pendant lights hang in a line above the checkout counter as well as over a display table in the center of the store. Our Bella pendants in Chocolate glass are the perfect addition to this setting, with the rich brown hue of our glass reflecting the company's branding and merchandise.
Niche's Chocolate glass also complements the warm tones featured throughout the space, marrying well with the dark wood grains. Interested in seeing our signature Chocolate glass color up close and personal? You can now order glass samples to help you envision the perfect modern lighting fixture for your next project.