You don't need to travel far to experience the world's finest cuisine. Located in Saskatoon, Canada, Ingredients Artisan Market carries uniquely-crafted products and high-end artisan goods from across the globe. Their thoughtful collection lines the shelves of a spacious and rustic storefront, which brings together classic and contemporary decor in a way that mimics the local and international products they sell.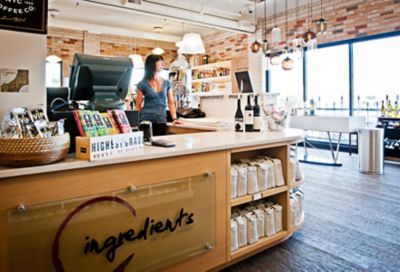 Inside, a stunning display of modern retail pendant lighting greets guests as they approach the main level. A grouping of Niche Solitaire, Bella, and Turret pendants in varying glass colors and drop lengths hangs from a custom Linear Modern Chandelier. The Linear Modern Chandelier displays a sleek line of modern pendants to create a contemporary fixture fit for any environment. The glass shade, color, and cord length are up to you, making each installation unique. Looking for a custom order? Contact our sales team today!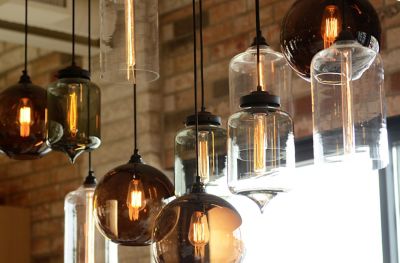 The combination of our luxurious Crystal, Chocolate, and Gray glass brings warmth to the interior, creating an inviting atmosphere for patrons to enjoy while they shop. With a rainbow of rich glass colors to choose from, we encourage mixing and matching to form an eye-catching centerpiece in your shop.