Invuity, a medical technology company that develops illumination and visualization products for minimally invasive surgical field applications, expanded its offices in the Potrero Hill neighborhood of San Francisco to accommodate their growing staff. With help from Geremia Design and RMW Architecture & Interiors, the California-based company's new headquarters facilitate creativity while remaining both comfortable and conducive to productivity.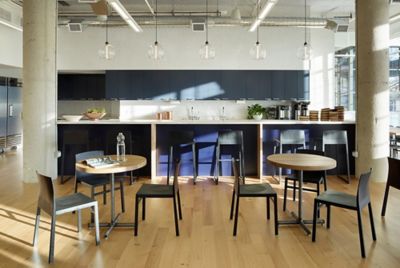 A linear grouping of five Stamen pendants in Crystal glass adorn Invuity's kitchen. Our signature Crystal glass complements the interiors industrial palette of concrete, oak, and blackened steel. Hanging multiple pendants in a space like in the breakroom at Invuity? Try using the Linear-5 Modern Chandelier, which allows you to easily combine any five light fixtures with a single electrical junction box. The canopy's metal finish and pendant's shape, glass color, and drop length are up to you, making each installation truly unique.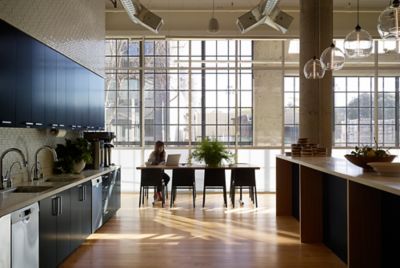 Your office is where your creativity comes to life and we want to foster that creative force with handmade glass lighting in unique shapes and luxurious glass colors. Looking for the right lights to match your company's brand? Browse our entire modern pendant lighting collection or contact our Sales team with your ideas. Already have Niche modern office lighting installed in your space? Share your project information and awe-inspiring images with us for a chance to be featured on our blog and social media pages.
Modern Office Lighting Project Details
Project Name Invuity
Location San Francisco, California
Interior Designer Geremia Design
Architecture RMW Architecture & Interiors
Photographer Matthew Millman Photography
Products Used Stamen pendants in Crystal glass