Interior designer Alexis Batista transformed this 1500 square-foot Miami getaway into a relaxing space that captures the ambiance of the white sandy beaches surrounding the complex. Serving as a guest apartment for the adjacent primary residence, this condominium in downtown Miami's Epic Residence boasts panoramic views of the bustling city and beautiful Biscayne Bay. Choosing a neutral palette in shades of taupe, gray, black, and white, Batista creates a seamless link between the inside and outside world. Niche modern living room pendant lights complete the overall look, and we couldn't be happier with the result.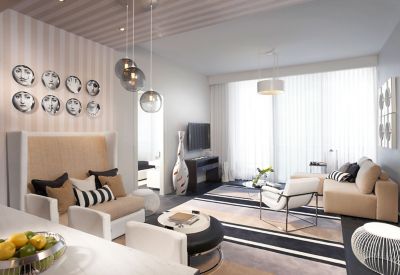 A trio of our Solitaire pendants in Gray glass hangs from a Circular-3 Modern Chandelier in the living room. The neutral color of our Gray glass complements the porcelain ebony flooring and vintage black-and-white plates found on the striped wall. The varying drop lengths, sleek cord sets, and unique metal canopy finish immediately draw the eye's attention. Our Circular Modern Chandelier Collection offers a simple way to cluster multiple pendants, creating a dazzling display that only requires a single electrical junction box. Choose from an array of our luxurious glass colors and classic silhouettes to create a completely custom fixture, perfect for your next project.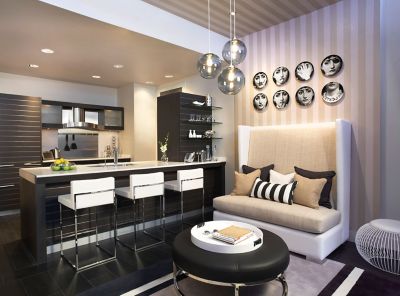 "It was a risk," Batista tells Miami Home & Decor Magazine. "[The homeowners] had seen renderings of the work and had very good things to say, but sometimes it's one thing to see drawings than the actual finished product. But when they walked into the completed apartment, they truly loved it. That was my biggest pleasure, to know that they connected with it."

Photos courtesy of Alex Perez