It's already that time! Today, August 24th, is your last day to save 20% off on Helio pendants and Pack Canopies. Use coupon code HELLOHELIO online at checkout before midnight! Make a unique clustered installation to suit your space with our Pack Canopy. The Pack collection brings Helio to a whole new level and makes hanging multiples easy! Choose cord lengths, a metal finish, and of course your Helio glass colors!
Helio is sleek and compact, making it perfect to hang as a group. Installation with a Pack Canopy gives you the option to hang 4, 6, or 9 pendants. Stagger the cord lengths (pictured above), or keep them in line for a striking focal point (below).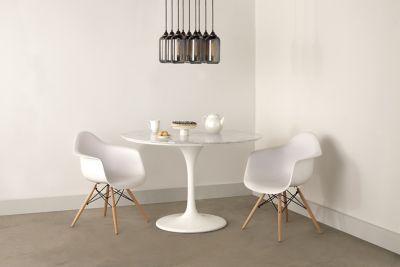 Need more information about which Helio colors, bulbs, and hanging options are best for you? Get the fully-illustrated product guide and use coupon code HELLOHELIO before this glass pendant lighting sale gets away and the clock strikes midnight.