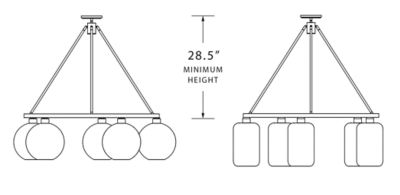 Minimum Height for Modern Glass Chandelier
Both the Solitaire and Pod Chandeliers have the ability to be flush mounted to accomodate lower ceilings. All your electrician has to do is connect the hang straight canopy directly to the central hub, there's no need to use the extension rods. Just remember to add the height of your glass to the minimum height above, as this will change how low your chandelier will hang.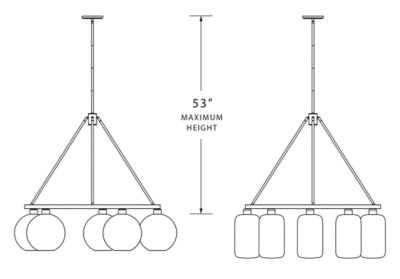 Maximum HEIGHT FOR MODERN GLASS CHANDELIER
Depending on how high your ceilings are, you may need to use all 4 extension rods to drop your chandelier to the height you need. Our chandeliers are engineered to be adjusted to fit just about any space. If you have really high ceilings requiring more drop length, just let us know. We can do a custom order that will fit perfectly.
Get all the steps on how to hang your modern chandelier here.
Remember
Each metal chandelier frame will have a minimum and maximum height. Your total overall height will increase with the height of the glass shape you select.