Located in Middletown, New York, Finding Home Farms is a family-owned, lifestyle brand specializing in hand-crafted maple syrup and home decor. Founded by Laura and Dana Putnam, the business grew from humble beginnings. The pair began as "backyard sugar makers," crafting just enough syrup to share with their neighbors. From there, they expanded into a full-fledged, highly-praised company, but they maintain their traditional roots by tapping and bottling all of their products right here in the Hudson Valley. Recently, they moved operations out of their home to a new sugarhouse and warehouse, which is occasionally open to the public. Stop by to sample and shop their organic maple treats and to see how they make their delicious syrup.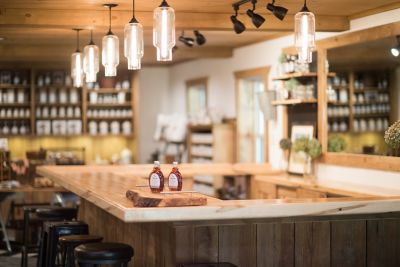 Pharos pendant lights in Crystal glass hang over the bar in the new sugarhouse, where the family hosts events and runs their retail shop part-time. Hanging from individual junction boxes in a linear arrangement, these sleek pendants add length to the bar top and add to the rustic atmosphere. Our classic clear glass lighting complements the farmhouse aesthetic, with natural wood material bringing warmth and simplicity to the stunning space.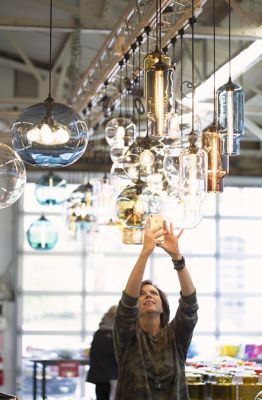 The Putnam family came to our Factory Sale last year, where they purchased the Pharos pendants for their new location. They were able to find seven discounted lights, which helped them during their renovation. You can see Laura shopping the sale in the picture featured. She really had her eyes set on the Pharos, and we couldn't be happier with how she used them at Finding Home Farms. Are you working on a project and looking for lighting? Stop by our 2018 Spring Factory Sale on April 28 and April 29 to find the right pendants for your space. We hope you'll have as much luck as the Putnam family had.