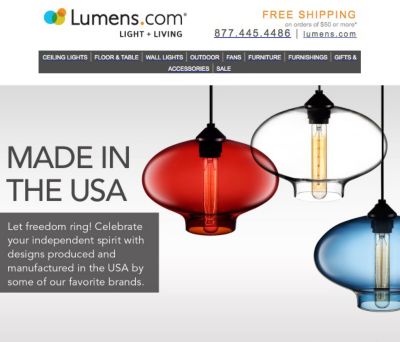 Independence Day isn't the only time to celebrate all things USA! Our friends at Lumens agree, that's why they feature great brands every day. So, what's better than seeing our Stargazer pendant featured front and center? Getting to know more of these great, Made in the USA brands - and they're showing off more than lighting!
Inspired by their natural surroundings,

Vermont-based Copeland Furniture draws

from New England traditions in their quest

to produce gorgeous, lasting hardwood

furniture.

Vessel USA was founded to revive

the Architectural Pottery collection that

made a splash in Los Angeles in 1950.

Its geometric and organic pottery follow

the original design specs to a T.

Chilewich's woven products are produced

exclusively in the U.S. and proudly

underscore the key American values of

versatility, adaptability and quality that

stand the test of time.