Meet Brandy, one of our Sales Associates! You may recognize her from the critically-acclaimed HBO Series, The Wire, but when she's not charming fans through their television screens, she's leading a low-key life in the Hudson Valley. Read her employee spotlight to learn more about her role at Niche and her favorite spot in Beacon.
What drew you to Niche?
I was interested in working close to home and with local artisans in the Hudson Valley.
What is your role at Niche and what does your day to day routine look like?
I am an Account Manager in the Sales office. I am responsible for working directly with our clients, whether that be providing quotes, answering design questions, processing orders, and taking payments. Most of all, I make sure our pendants are shipped to and received by our customers all over the world.
What do you feel is the most important quality as a business in the design community?
Consistent quality and classic, elegant design. It is one thing to make a splash in the design world, but to keep clientele coming back, and to sustain a successful business, it is most important to provide a product of the highest integrity that will stand the test of time.

Meet Brandy's pup, Sherlock!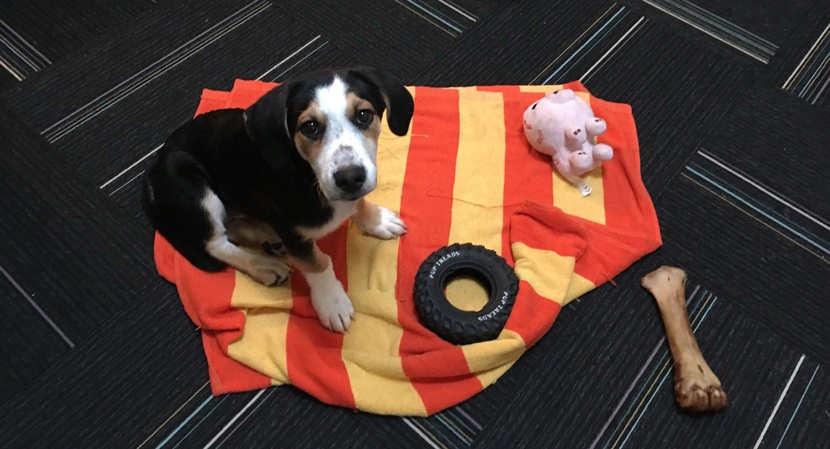 What's your favorite spot in Beacon or the Hudson Valley? Why?
I have many favorites. One is a stroll up Mt. Beacon. I live nearby the trail-head and can take a nice hike without having to get in my car, which always feels like a bonus!
What is your favorite Niche pendant shape and color combination? Why?
I have always been smitten with the Aurora pendant for its distinctive tuck shape and soft curves. I have an old house with low ceilings, so the Aurora is a perfect fit. I have one in Smoke in my guest bedroom.
What do you enjoy doing in your spare time?
Traveling and spending time with my children.