Meet Tavon, a Cold Shop Assistant at Niche! Our favorite quality about him? He is incredibly outgoing and always has something positive to say. Plus, he has a beautiful singing voice that he uses all day long while he coldworks. Keep reading Tavon's employee spotlight to learn about his favorite modern pendant light and what he enjoys doing in his spare time.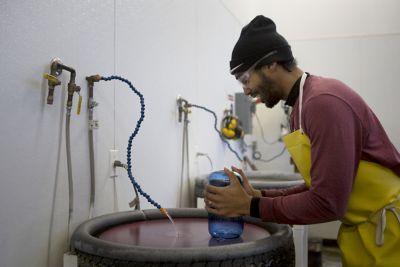 What is your role at Niche?
I mostly do the coldworking in the Cold Shop and I absolutely love it.
What do you feel are the most important qualities as a business in the design world?
Quality and Innovation. Class, being able to improvise, and an eye for detail. But most importantly, passion.
What's your favorite spot in Beacon or the Hudson Valley? Why?
It's gorgeous here, but I don't particularly have a favorite place. If I had to pick, I'd say the Hudson River on the Newburgh side. The sunrise is absolutely amazing from there.
What do you enjoy doing in your free time?
Music, art, skating, and reading. And then shopping like it's my job.
What is your favorite Niche pendant shape and color combination? Why?
I really love the Stamen. I also like the Pod and Ellipse. My favorite colors are Rose, Plum, and Condesa in that order. I just really like the frequency of those colors. They remind me of the sunrise and I feel like they match my vibe.