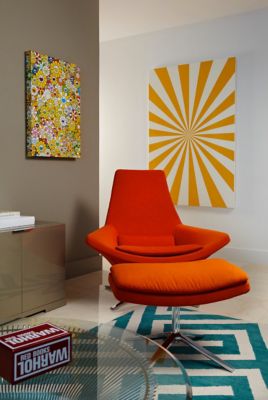 Designer Allen Saunders and his design team create sophisticated residential interiors with a unique attention to detail. A fusion of cutting-edge design, functionality and individual style is the formula for success in Saunder's approach to creating striking living environments.
As seen in the firm's project, Continuum II, there's no limit to bold angles and colors. Bright orange, golden yellow and teal harmonize surprisingly well as furniture, flowers and wall art. Against white and beige walls and fixtures, the interior looks borderline chaotic, but the neutral aspects allow for a solid design foundation.
In the bedroom, two of Niche's Oculo modern pendant lights hang on either side of the bed. This bedside table pendant lighting demonstrates a simple symmetry and creates balance within the space. The geometry of the Oculo modern pendant lights complements the patterned pillows and rug. Similar to the living room's design, the signature Crystal glass color helps to create a neutral base for the room's orange accents.