At this year's ICFF, Be Original Americas set up an interactive booth for attendees of the International Contemporary Furniture Fair to brand knockoffs with their thoughts on stolen designs. Juxtaposed against iconic chairs from well-known designers, the copycat creations helped to communicate what Be Original strives to do on a daily basis.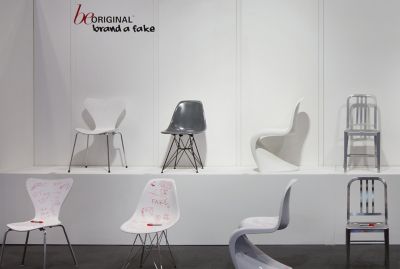 Be Original Americas is a campaign devoted to educating and influencing design professionals and manufacturers on the economical and ethical value of authentic design, while protecting and investing in its future. Niche is a proud member, joining the fight with several other brands we admire. Unfortunately, there are endless amounts of counterfeit sites that sell inferior versions of our modern pendant lights. By joining the Be Original campaign, our goal is to prevent copied design.
When your purchase a Niche handmade modern pendant, you are supporting genuine, innovative and creative work made in New York. Every order is sent with a Certificate of Authenticity, reassuring our clients that they have an original piece, made with love by our talented team of glass artisans. To learn more about Be Originals America and the incredible work they do to support designers, visit their website or follow them on Facebook, Twitter and Instagram.