---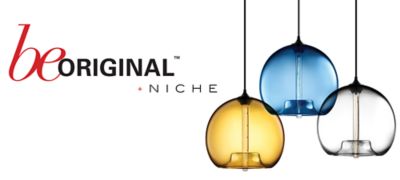 "This marks an important step in Be Original Americas' short history. Meeting with U.S. Customs and Border Protection recognizes the strength of our organization and gives our members the tools for legally protecting their authentic designs and brand integrity. We encourage our members to register their trademarks and copyrights so that their designs can be protected."
-Sam Grawe, President of Be Original Americas
Be Original Americas is a non-profit organization dedicated to advocating for the value of original design and Niche is proud to be a member. As a company making handmade glass lighting in the United States, our designs are prime picks for overseas counterfeiters to illegally replicate. Recently, two representatives from the U.S. Customs and Border Protection office and a special agent from the U.S. Department of Homeland Security gave a presentation to Be Original Americas board members in regards to protecting original design in the United States. Here were four highlights from the presentation:
• Designs may be legally protected by U.S. federally registered trademarks, copyrights, and/or patents.

• Trademarks and copyrights registered with the U.S. Patent and Trademark Office or U.S. Copyright Office can be recorded with U.S. Customs and Border Protection (CBP) to maximize their protection at the border.

• CBP is authorized to detain and/or seize imported merchandise that infringes recorded rights.

• Recordation is effective for the term of registration or remaining period up to ten years. Rights holders may electronically file Intellectual Property Rights (IPR) recordation applications at iprr.cbp.gov.

U.S. Customs is in contact with many Be Original Americas members. This August, U.S. Customs officers in the New York metro area will meet with 7 member companies to learn more about their original designs and help curb the stream of counterfeit furnishings into the United States.