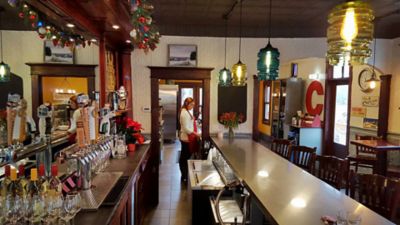 The Catskills' historic inns have long held a reputation as picturesque country retreats, but unfortunately, many of the grand old buildings that helped create that status have fallen into disrepair.
Proprietor Randy Klocko was living across the street from one of these buildings in Youngsville, New York. With a background in design and remodeling, he couldn't let the dilapidated inn fall into the hands of time, so he came to the rescue of the historic building, and the Clair Inn & Cafe was born.
Klocko added a wrap-around deck and gave the entire exterior a fresh coat of paint. Originally called the Hotel Clair, he even rescued some of the original signs to coincide with the original architecture and bar.
For the bar, Klocko chose our Delinea modern pendant light in Condesa and Chartreuse glass colors. The bar modern lighting adds a contemporary appeal while keeping the charm of the earlier eras with simplicity and elegance. Condesa and Chartreuse add an extra bright pop that complements both the interior's and exterior's pale blue and pastel yellow-green paint job.