The Niche Trove modern pendant light takes its inspiration from the idea of a treasure chest and all the magical gems which might be found inside. The Trove is part of the Crystalline Series which embraces playful, fresh colors and bold, defined angles. Get inspired by four modern office lighting installations that incorporate the colorful Trove pendant.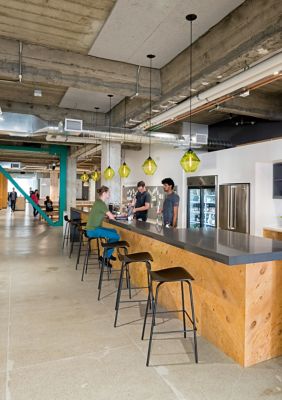 1. Thoughtworks
FENNIE+MEHL Architects designed new offices for the San Francisco-based creative technology company, ThoughtWorks. In the kitchen, six Trove pendants in Chartreuse glass hang above the countertop. The bold green shade of our Chartreuse glass brightens up the industrial space, which is used during breaks, meetings, and collaborative work sessions.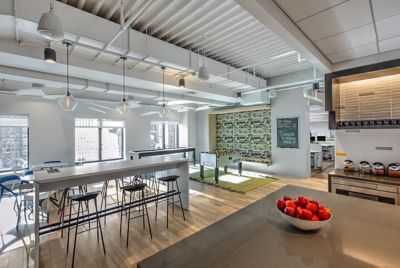 2. Bankrate
Located in New York City, the financial company Bankrate recently called on TPG Architecture to accommodate their growing space needs. Bankrate's breakroom features a trio of Trove pendants in Crystal glass above a communal table. The defined angles of the Trove pendant add to the café and game room's relaxed vibe, which helps to foster the company's culture of work and play.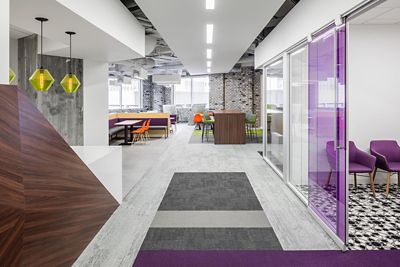 3. Fish & Richardson
Like Thoughtworks, the Minneapolis law firm Fish & Richardson features Trove pendants in Chartreuse glass in their reception and waiting area. Designed by NELSON, this office features a colorful palette of bright greens and purples, making our Chartreuse Trove the perfect addition in this interior. The eye-catching pendants welcome guests to the firm and create a comfortable environment for all to enjoy.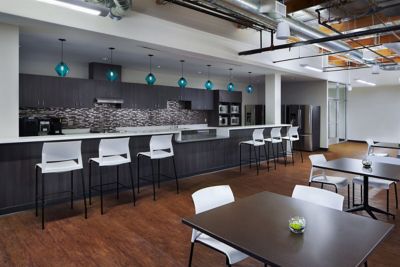 4. DAT Solutions
A linear grouping of seven Trove pendants in Condesa glass hangs above the break room cafe and kitchen bar in DAT Solutions' office, which was designed by LRS Architects. The blue hue of our Condesa glass color is a subtle nod to DAT Solution's branding color, complementing the company's logo. The bright color of our glass and the bold shape of our Trove pendant helps to liven up the workplace, creating an inviting atmosphere. Read more about this office transformation.