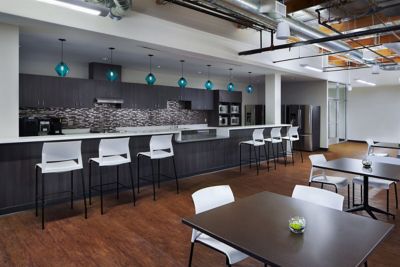 Established in 1978, DAT Solutions provides actionable information to the most extensive network of transportation professionals in North America. Their headquarters in Beaverton, Oregon recently underwent a renovation spearheaded by LRS Architects. The remodel offers DAT the space and resources needed to continue growing and providing for their employees and customers. We are thrilled to see Niche modern office pendant lighting incorporated in this collaboartive work environment where productivity and relaxation intersect.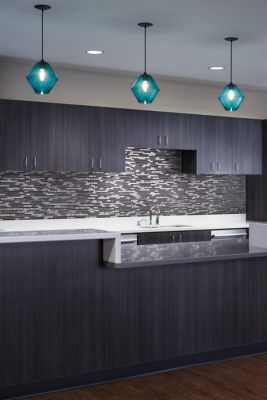 A linear grouping of seven Trove pendants in Condesa glass hang above the break room's cafe and kitchen bar. A custom LED Short Filament bulb is energy efficient, perfect for the workplace. View all of our LED options. The blue hue of our Condesa glass color is a subtle nod to DAT Solution's branding color, complementing the company's logo. The bright color of our glass and the bold shape of our Trove pendant helps to liven up the workplace, creating an inviting atmosphere.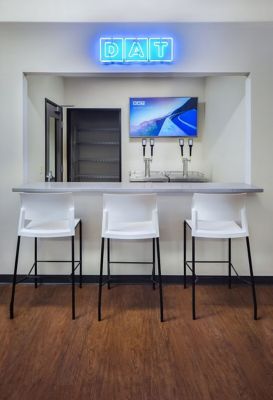 The break room also includes a small bar used for company social events and a recessed ceiling projector that transforms the space into an all-staff meeting place. Looking for more office lighting inspiration? Click here to see our favorite workspace installations.

Modern Office Lighting Project Details
Project DAT Solutions
Location Beaverton, Oregon
Architect LRS Architects
Photographer Carlos Rafael Photography