At last week's Dwell on Design New York conference, we heard a panel discussion on how counterfeit goods negatively affect the art and design communities, designers and consumers. Directors from Alessi, Soho Design District and Herman Miller joined Be Original Americas to discuss "The Real Cost of Ripoffs." Niche is a proud member of Be Original Americas and fully support authenticity in past, present and future design. Read more about Be Original Americas here.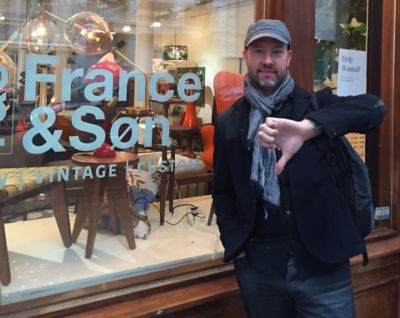 After the panel discussion, we decided to venture into Manhattan and visit a store called France & Son. This company came on the scene in 2014 and their tag line is "handpicking" Mid-Century Modern designs in New York. Niche has been actively sending France & Son letters asking them to remove their replicas of Jeremy's and Niche's designs from their website. We are very aware of their business model and how it affects the economy. In fact, the Wall Street Journal recently wrote a great article addressing concerns with Alibaba and other Chinese e-commerce sites that allow for the sale of counterfeit products.
| | | |
| --- | --- | --- |
| Eero Saarinen Table knock-off | Lindsay Adelman lighting fixture knock-off | Kartell Louis Ghost Chair knock-off |
When we went into the store we were not surprised to see an entire slew of knockoff furniture and lighting. As you can see, Niche's creative director Jeremy Pyles isn't very pleased to see cheaply made and imported products being passed off as high-end design.
If you see a Niche copy in the marketplace, let us know!