Entryway lighting welcomes both you and your guests to your home. Make the best first impression every time with a modern chandelier from Niche.
The Solitaire Modern Chandelier is part of the Niche Sola 36 Chandelier Collection. Elegant and timeless, this modern chandelier features our signature Solitaire glass shape. Choose your glass color and metal finish to customize the look and feel, just like this interior's purple accents that complement the modern chandelier's Plum glass color.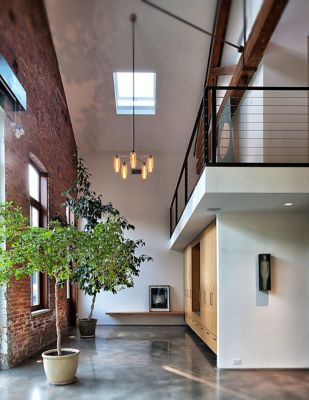 Bold angles and refined contemporary details, like square tubing, define Niche's Quill Modern Chandelier. Each chandelier and piece of glass are hand-crafted in the United States. Choose from any of the standard Niche glass colors. Orientation of glass on ring is always down with the exception of the Pharos, which can be up or down (shown above).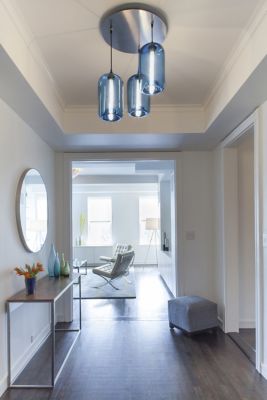 Torn between modern pendant lights and an extravagant chandelier? You don't have to be! That's the beauty of a multi-pendant chandelier from Niche. Choose from our Circular (pictured above), Linear, or Pack configurations. Select your glass shapes and colors, pick your cord lengths, and choose a metal finish to make the perfect lighting installation for your interior.