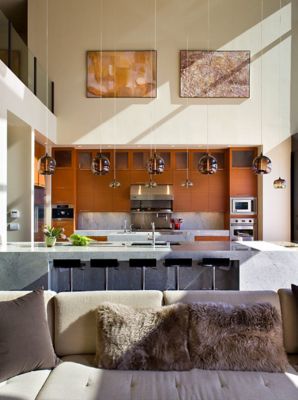 This open kitchen layout by John Massengale showcases kitchen modern lighting in three ways. Each pendant style has its own voice, but using different silhouettes with a common thread, like Niche's signature handmade tuck, can create harmony.
1. Modern Kitchen Island Lighting
A line of Stamen modern pendants in Chocolate glass hang over the kitchen island. Five pendants in this rich glass color give hierarchy to the main eating area and separate the kitchen from the adjacent living room.
2. Kitchen Counter Modern Lighting
Three Aurora modern pendant lights in Smoke glass keep consistency through using a pendant shape with the same handmade tuck as the Stamen pendant. A compact line of pendants in a more subdued glass color is perfect for a shorter countertop with less prominence.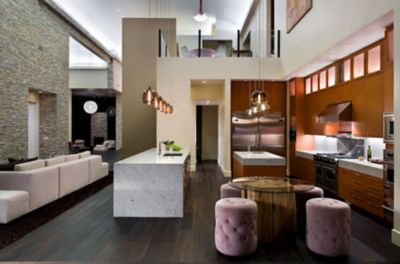 3. Kitchen Table Pendant Lighting
Niche's Encalmo Stamen modern pendant in Chocolate and Smoke glass ties the room together through combining the color of the Stamen pendants and the color of the Aurora pendants into one fixture. The single pendant also continues the signature handmade tuck motif. The uniquely stunning pendant gives focus to the small circular table below. Be inspired by more ways to hang a single pendant over an eat-in kitchen table.
Hanging three pendant silhouettes in different areas of a space doesn't have to be chaotic. Using complementary features such as color tones and shape motifs can bring unity to your space. Learn the different ways to hang multiple pendants for easy installation.