Interiors that utilize a neutral color palette are anything but boring. We call our Gray glass color the "never-fail neutral." Why? Because it can easily be paired with textiles, metals, marble, or tile and bring a tasteful, elegant balance to any space.
Jessica Helgerson Interior Design chose Niche's Aurora pendant light in Gray glass for this Oregon beach house. The Gray glass color enhances the serene atmosphere of the room's neutral color palette. Sunlight from the balcony windows reflects off of the bedroom pendant lighting, giving just enough attention to this subdued interior.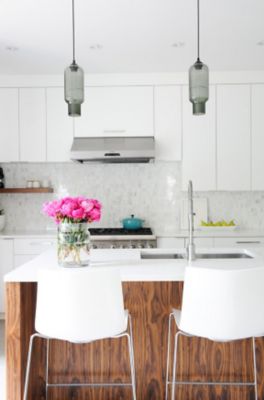 A wall of sliding doors from the deck radiate natural light into this Vancouver kitchen designed by Shift Interiors. The light and airy feel complement the modern kitchen lighting, Niche's Pharos pendant lights in Gray glass that add to the monochromatic gathering space. Concrete, marble, and chrome accents also contribute to the kitchen's neutral motifs.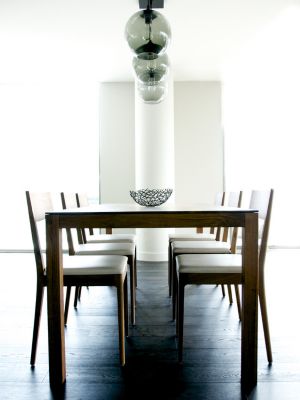 Our Solitaire pendant lights cast a distinct glow across the dining table in this Toronto penthouse designed by Croma Design. The Gray glass orbs soften the contrast between dark floor and bright white walls. Their linear configuration guides your eye from one end of the table to the other and adds another sense of simplicity to the elegant neutral color palette.
Thinking about going neutral for your next project? You can order glass color samples from Niche and see our luxurious Gray glass color in-person.