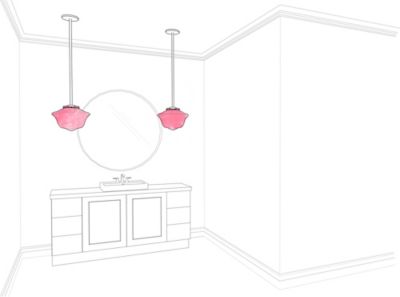 Our friends at Lumens have put together a great guide to bathroom lighting. Depending on size and layout of the bathroom, you may need more than one of these types of light fixtures in a bathroom. There are three priorities for bathroom lighting.
1. General Lighting
General lighting delivers overall brightness to the interior for everyday use.
• Recessed lighting
• Close-to-ceiling lighting
2. Task Lighting
Task lighting creates focused illumination for work spaces such as the vanity and mirrors.
• Wall sconces
3. Accent Lighting
Accent lighting highlights a specific area creating a focal point or to set a mood.
• Wall sconces
Pendant lighting makes the list for both task and accent lighting and chandeliers also make great accent lighting. Try hanging pendant lighting on either side of your vanity as task lighting (pictured above and below) or hang a modern chandelier in the center of your bathroom for accent lighting.

Niche has got you covered for both when it comes to bathroom modern lighting.