The popular Los Angeles Japanese restaurant, Sugarfish, is known for offering omakase-style sushi at an affordable price without sacrificing the quality of the fish. While several locations exist in California, the East Coast recently saw its first ever Sugarfish open in the Flatiron District. While the wait might be long, it is absolutely worth it. Along with the delicious food, the environment — which was designed by architect Marmol Radziner — contributes to the eater's overall experience.
A stunning cluster of Solitaire pendants in Smoke glass hangs from a custom canopy in Sugarfish's New York location. Beginning at the mezzanine-level waiting area, our Solitaire pendants hang from varying drop lengths, cascading down the stairs and guiding guests to the main eating area. Our signature Smoke glass complements the restaurant's industrial aesthetic, especially the built-in steel and leather bench seating, exposed brick, and warm concrete floors.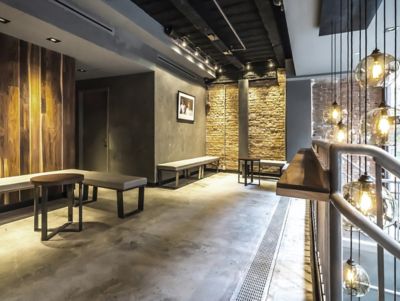 The design for the New York debut of Sugarfish merges traditional and modern Japanese architecture with an industrial material palette. Niche's Solitaire pendant is perfect restaurant lighting for this kind of setting, as it is stunningly minimalist and straightforward in its presentation. Several of the restaurant's California locations also incorporate Smoke Solitaire pendants. See 5 other Sugarfish locations featuring Niche modern restaurant lighting.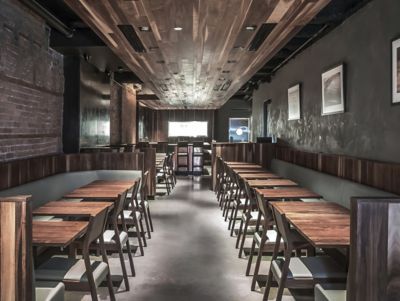 Modern Restaurant Lighting Project Details
Project Name Sugarfish New York
Location New York, New York
Architect Marmol Radziner
Products Used Solitaire pendants in Smoke glass