It is our pleasure to introduce the latest addition to Niche's hand-blown pendant line: the Marquise Series. Available in three sizes and an array of new colorways, this versatile collection will make a statement in any setting. Every Marquise pendant is handmade by a team of talented glass artisans in our state-of-the-art Hot Shop. Learn more about our glass-blowing process to see how this stunning silhouette comes to life.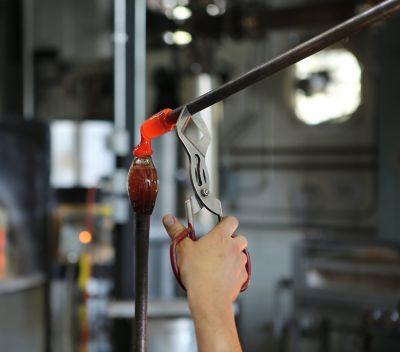 1. Color Dropping
A solid bar of color is heated to a certain temperature, causing it to change into a liquid state. The pipe is then lifted overhead (pictured) while gravity pulls the solid color down onto a second pipe. A Hot Shop member eventually gathers more glass on the second pipe, which is later used to blow our luxurious Marquise pendants.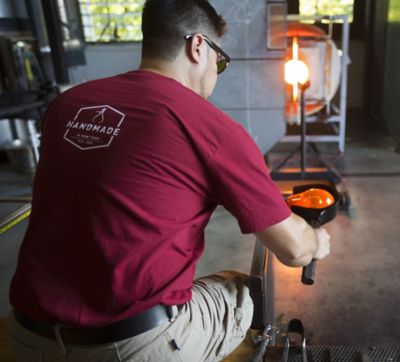 2. BLOCKING
The gaffer then shapes the molten glass in a wet block, which is typically made of cherry wood, creating a cushion of steam that helps the bubble move smoothly and take shape.
3. MOLD BLOWING
An additional step is added to the glass-blowing process for our Optique Marquise pendants. Before the molten glass can be blown into the Marquise mold, it must be blown into a cast aluminum one, which ultimately creates the ridged effect distinct to our Optique glass.
4. MOLD BLOWING
Next, the gaffer will inflate the rounded mass of glass in the mold, a technique that is called mold blowing. The gather expands within the wooden frame and eventually takes the shape of the Marquise pendant.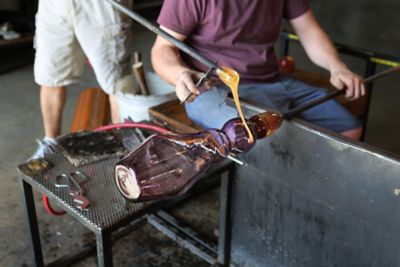 5. WRAPPING
A wrap, or a small gather of glass on an additional pipe, is used to stop cracks from traveling through the pendant. This technique will ensure that when the gaffer removes the glass from the blowpipe, it will not splinter and jeopardize the quality of the final product.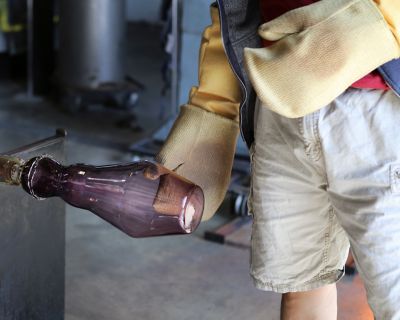 6. BOXING
A Hot Shop member suits up with heat-resistant gear and holds the glass as it cracks off the pipe. Then it is "boxed," or put into the annealer to be gradually cooled and cold-worked. The final (and most exciting) step is packing and shipping the Marquise pendants for their new home!