Designed by Lorissa Kimm Architecture, this Rolling Hills Residence brings together the expertise and vision of both the client and the designer, resulting in an environment that is beautiful yet practical and modern yet comfortable. This clean and minimalistic home certainly achieves just that. We are thrilled to see Niche modern kitchen island pendant lighting contributing to this stunning aesthetic.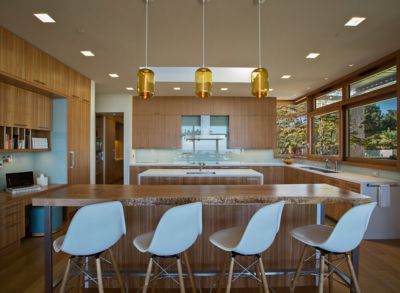 A trio of Pod pendants in Amber glass hangs above the kitchen island. The Pod modern pendant light funnels light delicately through its long, cylindrical shape and is finished with our dramatic, signature inward curvature. This hand-blown glass pendant light creates a unique centerpiece in any interior, especially when hung in multiples, as seen here. The warmth of our honey-colored Amber glass complements the rich wood tones prominently incorporated throughout the space and creates a welcoming, inviting atmosphere for all the enjoy.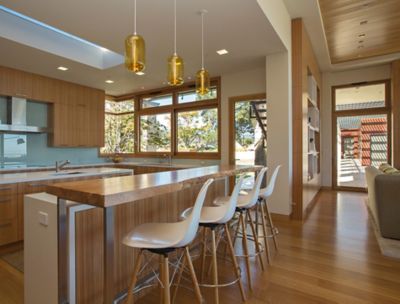 We've re-released the Pod pendant in two new colors! To celebrate this signature silhouette, get a free Linear-3 Canopy or Circular-3 Canopy when you purchase any three pod pendants. Hurry, this sale ends on Thursday, August 24!
Modern Kitchen Island Lighting Project Details
Project Name Rolling Hills Residence
Location San Francisco, California
Architect Lorissa Kimm Architecture
Products Used Pod pendants in Amber glass