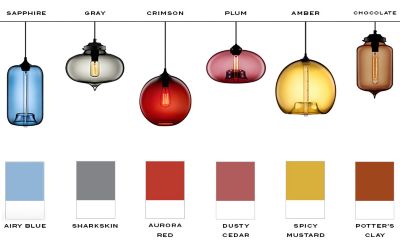 Pantone, one of the world's most respected color reporters, has announced their upcoming fall color trends. Not only did they match the gorgeous hues of autumn, but a few of Niche's signature glass colors too!
Sapphire, Gray, Crimson, Plum, Amber and Chocolate (from left to right) have been some of Niche's most popular shades. Pantone's Airy Blue, Sharkskin, Aurora Red (a nod to a favorite Niche silhouette, perhaps?), Dusty Cedar, Spicy Mustard and Potter's Clay are great tones by themselves, but when paired together, they showcase the essence of autumn.
Try hanging these hues together in a multi-pendant chandelier to stay on trend with Niche's signature glass colors. Scared of commitment? Start with glass color samples to see colors in person.