The Pantone Fall 2018 Color Trend Report is the essential color guide to the season. Inspired by the designs at New York Fashion Week, Pantone's top 10 colors fully capture the need for individuality, ingenuity, and creativity. Like Pantone's colors, Niche's contemporary colored glass is influenced by the beautiful details in the world. Similar to the selected shades chosen by the world-renowned authority of color, many of Niche's signature glass hues "are being used to make very specific color statements on their own."
Leatrice Eiseman, Executive Director of the Pantone Color Institute, notes, "As designers and consumers alike continue to transition away from cyclical trends, and instead focus on self-expressive colors that evade antiquated seasonal structure, we are seeing very notable non-traditional choices." Pantone's picks for the upcoming season are being categorized as "autumnal hues that evoke the feeling of leaves on the forest floor, rich plumage and twilight reveal a modern fall palette of deep and rich tones with outbursts of colorful surprise." Below, see the shades of the season paired with complementary hand-blown lighting.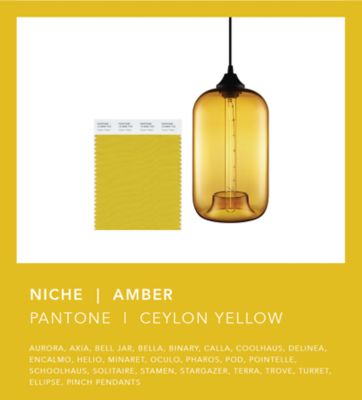 Ceylon Yellow
The exotic tone of "Ceylon Yellow" creates a bold statement in any space. Like Pantone, Niche isn't afraid of incorporating strong colors in a design. The honey-colored hue of our Amber glass radiates warmth and charm just as "the savory and spicy yellow" does.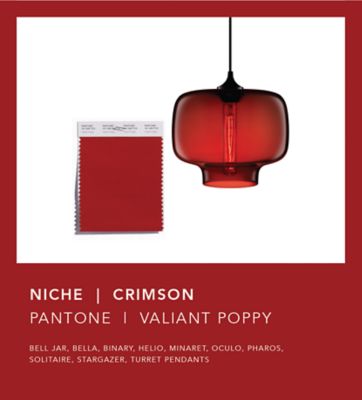 Valiant Poppy
The rich, red hue of Pantone's "Valiant Poppy" represents bravery and outspokenness. Niche's Crimson pendant lights perfectly match this radiant shade. Read more for tips on how to decorate with this alluring color.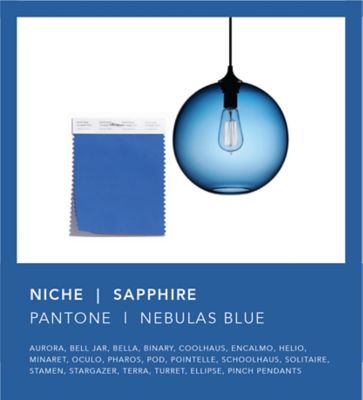 Nebulas Blue
Pantone's "Nebulas Blue" is an electric shade that celebrates bold color. This thoughtful hue resembles Niche's Sapphire glass, which brightens any interior with bursts of color like the stone after which it is named.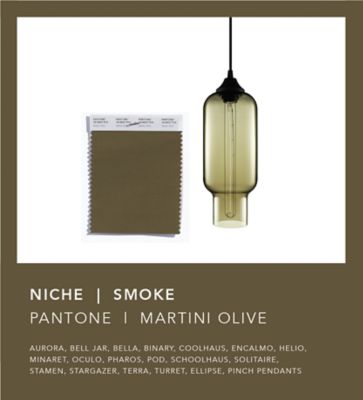 Martini Olive
This subdued yet sophisticated shade adds depth to Pantone's Fall/Winter palette. Niche's signature Smoke glass resembles a similar hue, with hints of both green and gray that are worthy of the statement they make.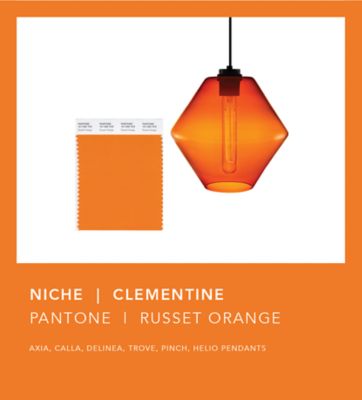 Russet Orange
With more red than yellow appearing in "Russet Orange," this tint draws inspiration from nature and foliage. Like Pantone's refreshing shade, Niche's Clementine glass adds flavor and flair to any space.
Limelight
This vibrant color complements Niche's energizing Mint glass. Available in an opaque glass option that is unique to the Helio pendant's Chroma Collection, this light, yellow-green hue adds a touch of freshness to any space.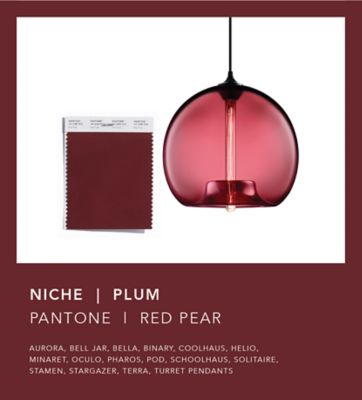 Red Pear
The deep and luscious "Red Pear" is a soft and decadent burgundy. Reminiscent of Niche's Plum glass, which adds a cozy touch to the interiors it illuminates.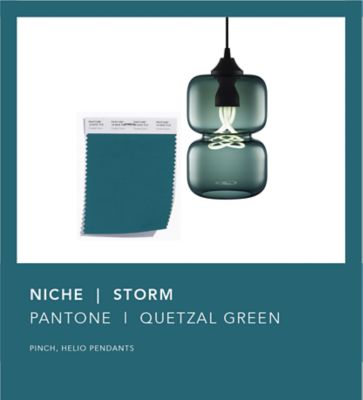 Quetzal Green
A rich blue with jewel-toned green, our opaque Storm glass complements Pantone's "Quetzal Green," which is reflective of the eponymous Central American bird and inspired by the vital colors found in nature.
Not sure if the colors chosen by Pantone are right for you? Choosing the right paint color and lighting for your interior can be intimidating at first. Seeing Niche's colored glass in person is a great way to decide what will work for your project. It's easy to order glass color samples from Niche. Select three or five colors to have delivered right to your door.