Every year, Pantone — the world-renowned authority of color — announces their "Color of the Year." Each shade serves as an expression of mood and attitude. It is a symbolic selection and a color snapshot of what the iconic company sees taking place in our global culture. Pantone has just announced their color of the year for 2017 — Greenery.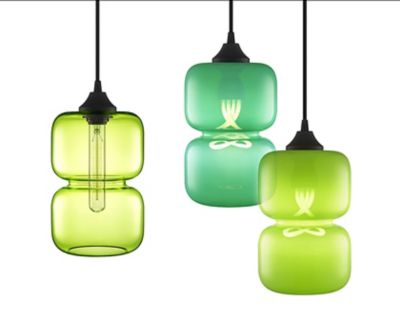 "Greenery bursts forth in 2017 to provide us with the reassurance we yearn for amid a tumultuous social and political environment," says Pantone's Executive Director, Leatrice Eiseman. "Satisfying our growing desire to rejuvenate and revitalize, Greenery symbolizes the reconnection we seek with nature, one another and a larger purpose."
The refreshing and revitalizing hue just so happens to match Niche's signature Jade, Kiwi, Mint and Chartreuse glass colors. Our talented team takes great care in delivering you premium products of timeless beauty. Every colorful Niche glass lighting piece is made from the most pristine materials to ensure that we meet our exceptional standards of craftsmanship. We are constantly perfecting and improving our process to bring you the perfect palette of bold and luxurious glass colors. To see these beautiful colors up close and personal, get glass samples sent right to your home.