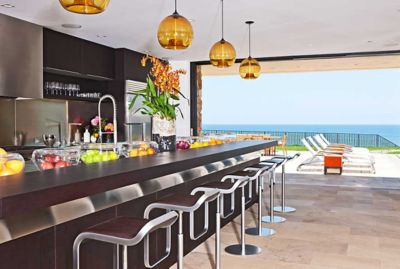 Sunny and warm, Malibu is the perfect spot for a beach home. This home designed by L2 Interiors combines natural materials with modern elements to create a luxurious space overlooking the world-famous beach. A row of deep honey-colored kitchen island pendant lighting hangs over the smooth mahogany surface of the countertop and sand-inspired tiles of the floor. Each Stamen modern pendant lights in Amber glass gives off a warm glow while the rest of the interior remains natural to keep the magnificent ocean-front view the main focus of this space.
That's not to say the interior isn't stunning on its own. The facade of the sandstone fireplace brings a touch of the exterior indoors, along with botanical additions throughout the home. Leather furniture, stainless steel accents, and glass surfaces add the finishing touches.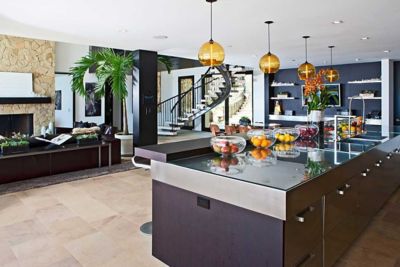 Fresh air and natural light are what make this open-concept home a beach-lovers dream. What could be better than floor-to-ceiling doorways leading to multiple patios and a crystal clear pool? L2 Interiors successfully blurred the lines between inside and out with the design of this luxurious beach-front home.