Clean Design is an award-winning, Westchester, New York interior design firm. Designer Claire Paquin's vision is to bring a youthful freshness to residential designs. Her fresh, modern touches complement classic styles, as seen in this bright and sunny kitchen with its trendy, minimalist blue accents.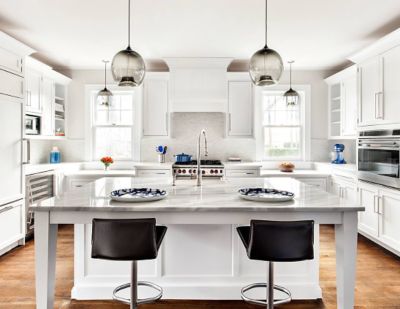 A unique configuration of our Stamen pendant lights in Gray glass add another layer of luxury to this sleek interior. Two of the hand-blown glass fixtures are used as kitchen island pendant lighting, while two more make for additional kitchen counter pendant lighting.
Even if you have multiples, pendant lights don't always have to hang in a row or in a cluster. Check out a few more modern kitchens that used multiple pendant lights, spread out within one room here.