A talented photographer living in Santa Monica, California called on Leanne Ford Interiors to create a home that acted in several ways; the homeowner wanted a space that was suitable for both entertaining and work purposes. After architect Charles Ward designed the house from the ground up, Ford designed an interior that would highlight his craftmanship. The result is a stunning residence that lets in an abundance of natural light to warm up the industrial-inspired interior.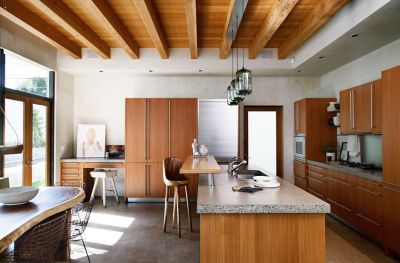 A trio of Pod pendants in Gray glass adorns the kitchen island. Hanging from a Linear-3 Modern Chandelier, the Pod pendants create a stunning display of kitchen island lighting. The Linear-3 allows you to easily combine any three glass shades with a single electrical junction box. The color, shape and drop length are up to you, making each installation truly unique. The signature color of our Gray glass complements the interiors neutral, earthy palette, especially the concrete floor and poured-in-place countertop.
"My design philosophy is casual, livable and easy. A home can be dialed to the nines, but still has to feel comfortable to hang around in," Ford says. "I love the juxtaposition of the wood, concrete and lighting next to the natural lines of the dining table and bar stool, with the softer lines of the furniture we have brought in." When asked about the decision to incorporate Niche pendants into this space, Ford shares: "The homeowner loved and chose these pendants," Ford says. "They were a perfect color and clean modern style that works well with the home and details of the kitchen." We couldn't agree more! To see other design projects from Ford, visit her website and follow her on Instagram.
Modern Kitchen Lighting Project Details
Project Name Santa Monica Home
Location Santa Monica, California
Interior Designer Leanne Ford Interiors
Architect Charles Ward
Photographer Genevieve Garruppo — See more images on her Instagram
Products Used Pod pendants in Gray glass, Linear-3 Modern Chandelier