One of the original Niche designs, the Aurora modern lighting collection features our signature inward curvature that perfectly showcases a nostalgic style bulb. The classic shape shines on its own, in clusters, or even when paired with other signature Niche pendants. Here are three different ways to hang multiple Aurora modern pendant lights.
1. Modern Track Lighting
Track lighting allows you to hang multiple Aurora pendants with the freedom to move and position the lights anywhere along the track grooves. Ask your electrician about installation options. Niche pendants are compatible with Halo, Juno and Lightolier line voltage track systems. Niche can provide Halo compatible track connectors which your electrician can wire at the desired height.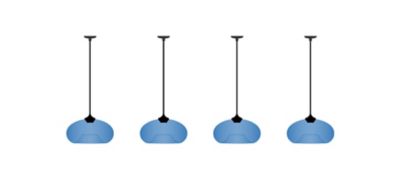 2. Multiple Junction Boxes
All Niche pendant lights ship with an individual canopy kit included. This allows for installation directly into a standard junction box. Selecting multiple Aurora pendants, whether it's 3 or 4 above a kitchen island, can help visually define your space. Each will require a separate junction box, but the 5" dome canopy provides a classic look that works with multiple pendants.


3. Multi-Pendant Modern Chandeliers
Electricians aren't cheap, so if you're planning on hanging more than one Aurora pendant you may want to look at our Multi-Pendant Canopy options. This way your electrician only needs one electrical junction box to hang multiple pendants. Choose from a number of our Circular or Linear canopies to hang 2, 3, 4 or more pendants.