Designer Emilie Munroe of Studio Munroe upgraded a single-level San Francisco bachelor pad to channel the spirit and lifestyle of its twenty-something young owner. This home achieves a level of playfulness that is popular in this dynamic California neighborhood through a mix of materials, and the use of geometric pendant lights in the kitchen adds nuance to the interior.
Above the kitchen island hangs two Trove pendants in Gray glass. The Trove pendant features defined angles that add an exuberant touch to the space. The bold shape of this hand-blown light fits perfectly in this kitchen among the geometric art and exotic plants that accent the walls.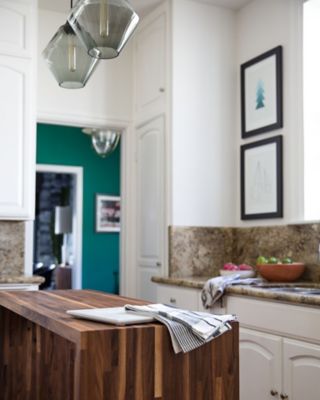 Munroe tells Niche that the Trove pendant is a favorite of hers because "it provides the airy and functional look of a standard clear glass globe pendant with the added visual interest of a unique shape and glass coloration." We couldn't be more pleased with how this talented designer implement our glass lights in her work.
Thank you to Studio Munroe for supporting Niche and for sending us this project. Do you have Niche pendants in your home? You can send us your project information and awe-inspiring images to match for a chance to be featured on our blog and social pages. We look forward to showcasing your spaces!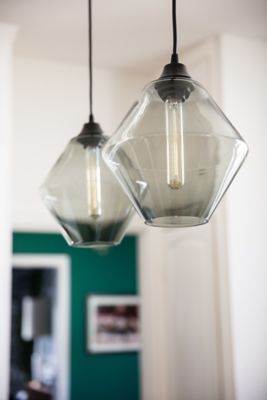 Modern Kitchen Lighting Project Details
Project Name Bachelor Pad Marina
Location San Francisco, California
Interior Designer Emilie Munroe of Studio Munroe
Photographer Thomas Kuoh > See more photos on social @kuohphotography
Products Used Gray Trove