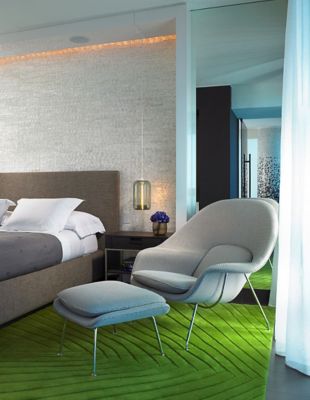 Miami-based design firm Allen Saunders, Inc., exhibit a consistent alliance between form and function in their sophisticated residential and commercial interiors. Allen Saunders leads an experienced team with a keen grasp on inventive products ranging from furniture, lighting, woodwork, and finishes. The cutting-edge blend of design, color, and functionality lends itself to the individuality and success of each space the team constructs.
Rich lime green is a refreshing accent color among the neutrals throughout the rooms of the Canyon Ranch I. Combined with the aqua glow radiating from the surrounding water, a tropical and serene atmosphere makes for a relaxing vacation nap. Tucked next to the bed is a Niche
Pod modern pendant light
. The warm glow from the bedside pendant lighting generates a subtle parallel between the interior's cool shades and the striking green rugs.