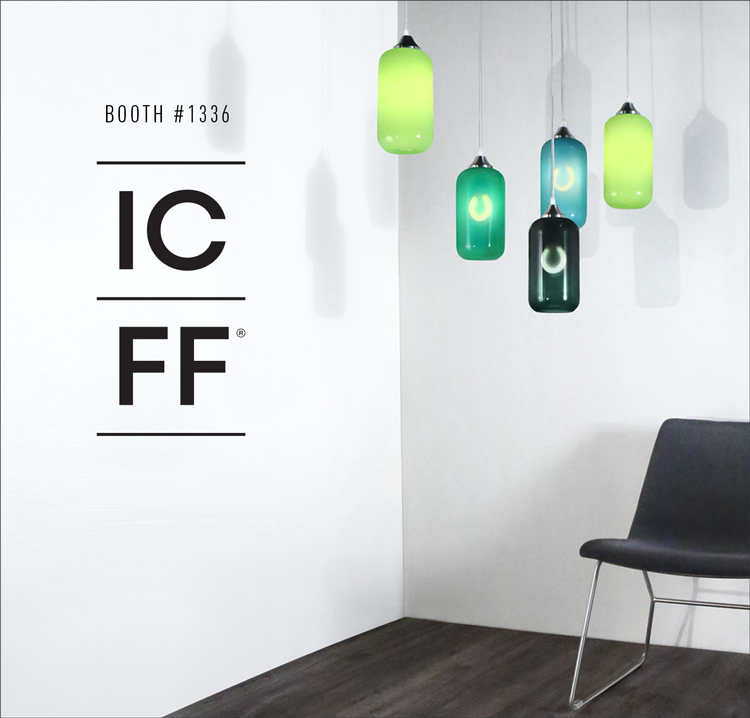 We're so excited to be a part of this year's International Contemporary Furniture Fair (ICFF) in New York City! This four day event takes over the Jacob K. Javits Center May 16-19, to feature what's best and what's next in high end, contemporary design. It's fitting that we're bringing our brand new Helio and Pointelle pendants for their New York debut!
From Saturday, May 16th to Monday, May 18th, ICFF is open to trade professionals only. On Tuesday, May 19th, ICFF is open to the general public. Registration is required to attend, so don't delay! Located at 11th Avenue and 38th Street, the Javits Center is less than a 15 minute walk from Penn Station for those traveling into Manhattan. There are several parking garages nearby for those driving to the Javits as well.
2015 marks the 27th edition of the International Contemporary Furniture Fair. When the show first launched in 1988, Modernism was on its way back to the forefront of design. In the years to follow we've seen trends come and go.
Inspiration for good design comes from all over. Even social and political scenarios play a role in home furnishing design, for example in 1990 the Americans with Disabilities Act was signed, probing possibilities to create cities, rooms, furnishings, and objects that would support people with physical impairments. Ergonomics was now considered important to home design. In 1994, an environmental movement began where exhibitors explored recycling, green design, and natural materials. They showed "knockdown" furniture for flat-pack shipping to save on energy and materials, surfaces woven with grass, papers and rugs made with beans, nuts, and abaca. Also by the mid-1990s, "space-age" materials started to be seen in the home such as ultra-tough ceramic, bentwood, latex foam, and chrome. In the early 2000s, the socioeconomic trend of working at home necessitated a new type of residential furniture that could be compact and adjusted.
Today, twenty-first century design knows no boundaries. New faces, new materials, and new machines help foster creativity and the optimism that comes with it. Niche fits right in with our inventive glass shapes and signature colors that redefine the tradition of hand-blown glass paired with stylish, modern lighting.
ICFF attracts more than 32,000 interior designers, architects, retailers, representatives, distributors, facility managers, developers, manufacturers, store designers, and visual merchandisers. While ICFF is North America's largest trade show in the field, the event also draws international exhibitors and attendees. Over 700 exhibitors are anticipated this year!
Niche is one of those many exhibitors, so come visit us at Booth 1336 and get ready to be inspired and enLIGHTened!